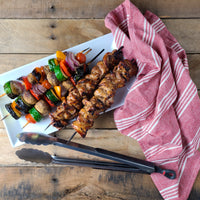 I've been making variations of this recipe for my family for a long time. Last summer I finally decided it was time to write it down. By the time I'd got it down, tested and retested, sadly the summer was over. And though I grill all year round, I know many consider it a summer only pastime. Which is why I waited to post it now that summer is here again. I hope you and your family enjoy it as much as we do!
Chicken Skewers:
Ingredients:
2 lbs boneless, skinless chicken thigh (Pargiot)
2 Tbsp Hoison sauce**
2 Tbsp Maple syrup
1 Tbsp soy sauce
1 Tbsp seasoned rice vinegar
1/2 tsp Kosher Salt
1/2 tsp freshly ground black pepper
1 tsp onion powder
**If you can't find Hoison sauce you can substitute for any bottled teriyaki sauce or marinade. It won't be exactly the same but will still be delicious!
Instructions:
If using wooden skewers, soak in water for a few hours before using.
Mix all ingredients besides chicken in a large bowl or freezer Ziploc bag. Cut chicken into strips and add to sauce. Mix well to combine. Chicken can be refrigerated in sauce for a few hours at this point.
Remove chicken from sauce and place chicken onto skewers folding strips into a zigzag or accordion shape as you do and then pushing down to the end of the skewer.
Grill on well oiled grate directly over the coals for 3-5 minutes per side and then transfer to the indirect side of your charcoal grill to finish cooking. About 5-10 minutes more.
* If using a gas grill start at high heat and turn heat to low to finish cooking
Easier option: Toss pargiot into sauce. Remove them and grill as above about 2-3 minutes per side and then about 5 minutes to finish cooking.
Vegetable Skewers
Ingredients:
1 small Red onion, cut into chunks
1 small zucchini, sliced into 1/2"-3/4" slices
1 bell pepper, cut into squares of approximately 1"
1 package white button mushrooms, cleaned and stem removed
1/2 box grape tomatoes
Kosher salt
Freshly ground black pepper
Oil spray (ie: Pam)
Instructions:
If using wooden skewers, soak in water for a few hours before using.

Place vegetables onto skewers, alternating different types
Spray skewers well with oil on all sides and season with salt and pepper

My usual technique for cooking these is to cook them on the indirect side of the grill (low heat on a gas grill) while the chicken cooks over the coals (high heat) and then switch the vegetable and chicken skewers and grill the vegetable skewers about 3-5 minutes per side until done. This way the chicken and vegetables are ready at the same time

You can also grill them exactly as the chicken skewers are grilled, starting on the coals (high heat) and then transferring to indirect heat (low heat) to finish cooking, 5-10 minutes.

Easier option: Toss vegetables onto a foil lined, well oiled sheet pan. Spray well with Pam and season with salt and pepper. Place sheet pan over high heat on grill and cook about 15-20 minutes until done








Leave a comment (all fields required)
Comments will be approved before showing up.