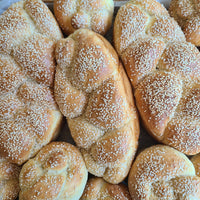 This is my challah recipe.
It's not a super-rich, sweet, and eggy dough like many challah recipes. It is more bread like, with a hint of sweetness. It's closest to a "water challah" recipe in style but with a fluffiness not the crumbliness that usually personifies that style.
This recipe uses commercial yeast, this is NOT my sourdough challah recipe. If you're looking for that you can find it here.

This also makes amazing rolls or buns and freezes beautifully. In fact, I almost always freeze it. I make a few weeks' worth of challah at a time and freeze it in Ziploc freezer bags to enjoy in the future. Defrost at room temperature for a few hours before serving.


Homegrown Kosher's Challah
Ingredients:
5 lbs king arthur bread flour

1/2 cup granulated sugar

2 Tbsp fine sea salt

6 tsp instant yeast

1/2 cup nuetral oil (canola, avocado, grapeseed)

About 6 cups warm water (95-110 Fahrenheit)

1 egg, beaten lightly (for egg wash)

sesame seeds for sprinkling 

Instructions:

Knead the dough (5 minutes in a mixer), Make sure it's not too dry or wet, (add a bit of additional water or flour if needed). Let the dough sit 10-15 minutes and knead again (about another 5-10 minutes in a mixer) . Check the dough making sure the gluten is developed. (using the "windowpane method"*)

Spray a large bowl with oil spray. Put dough in bowl and spray dough top, cover with plastic wrap.
Leave to rise for about an hour until doubled in size, fold down the dough and let rise again until it's doubled in size again about another half an hour.

Braid:
I make challah rolls with 3-4 oz of dough each. Larger challahs with about 6.5 oz of dough for each dough ball (3 balls for each challah) and smaller challahs with about 4 oz of dough for each dough ball (3 balls for each challah)

Put in sprayed pans or on a parchment lined baking sheet, spray top of challahs and cover loosely with plastic wrap. Let rise for one hour.

If all the challahs won't fit in your oven at once, bake the rolls or smaller challahs first, after about 45 mintutes.

About 15-20 minutes before baking, brush each roll or challah with a beaten egg and sprinkle generously with sesame seeds.

Bake at 375 for about 20 minutes for rolls and 30-40 minutes for challahs. Internal temperature should be 200 degrees Fahrenheit when done.

Cool completely on a rack

*Windowpane method: take a small piece of dough and stretch it thinly. It should stretch without breaking to the point that light should be visible through it.
Leave a comment (all fields required)
Comments will be approved before showing up.