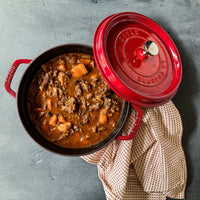 This is a dish for lamb lovers! The lamb shank is an underrated cut of lamb that is often tough but is packed with flavor. This method of gently cooking the lamb shank first, tenderizes the meat and releases its flavor which permeates this delicious stew.


Ingredients:
2 lamb shanks

2 Tbsp olive oil

1 large onion, chopped

4 cloves Garlic, peeled and left whole

5 ribs celery

1 sweet potato

2 Yukon gold potatoes

3 large carrots

2 parsnip

8 oz white mushrooms halved

3 Tbsp Paprika

1 1/2 tsp Cumin

1 1/2 Cardamom

3/4 tsp Cinnamon

1 tsp Kosher salt

1/2 tsp Pepper

2 Tbsp Tomato paste

2 cups chicken stock

2/3 cup cup red wine

2 bay leaves

salt and pepper to taste
Instructions:
Season the lamb shanks with salt and pepper. Seal in vacuum bag or heavy duty ziploc bags and cook sous vide for 12 hours at 165.
At this point you can cool lamb shanks in an ice bath and refrigerate for up to 2 days or continue below.
(If you refrigerate, let bagged lamb shanks warm up in a bowl of warm water for a few minutes before continuing)
Peel and chop celery, potatoes, sweet potatoes, carrots, and parsnips into 3/4"-1" pieces
Pull meat off bones, reserving the shank bones themselves but discarding any fat, cartilage or small bones.
Save any accumulated liquid from the bag.
In a Dutch oven medium heat add olive oil
Cook onion and garlic for 5 minutes stirring often.
In a large bowl toss the chopped vegetables with the paprika, cumin, cardamom, cinnamon, salt and pepper. Add spices and vegetables to the pot and cook for 10 minutes stirring often, being sure to scrape the pot bottom. A wooden spoon is key for this! The mushrooms will begin to break down and that's OK. They are there to add flavor.
Add tomato paste and cook another 5 minutes stirring constantly.
Add wine to deglaze, scraping up all the delicious browned bits from the bottom of the pot. Cook stirring for about 1-2 minutes until mostly evaporated.
Add bay leaves stock and liquid reserved from bag then stir in the lamb. Lay the bones on top.
Bring to a simmer
Cover leaving a tiny bit uncovered and simmer 40 minutes -1 hour until vegetables are tender, stirring occasionally, scraping sides and bottom of pot into stew. Season to taste with salt and pepper as needed.
Serve immediately or refrigerate overnight and warm gently on the stovetop before serving.
NOTE: If you do not have an immersion circulator you can simmer the seasoned lamb shanks in a covered pot in 2 cups of chicken stock, and 2 cup of water for 2-3 hours until the lamb is tender enough to pull off the bones. You can then use 2 1/2 cups of the stock/water mixture in place of chicken stock and liquid from the bag. It will not give the same exact result but will make a delicious stew.
Leave a comment (all fields required)
Comments will be approved before showing up.