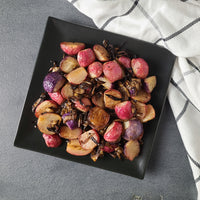 Roasted radishes are completely different than raw radishes. The high heat of the oven transforms them, mellowing the sharpness and bringing out a slightly sweet and nutty flavor. They also soften while roasting leading to a texture akin to roasted potatoes.
You can roast radishes alone with just some olive oil, salt and pepper but adding shallots and a splash of balsamic vinegar takes them to the next level.
Roasted Radishes with Crispy Shallots
Ingredients:
15-20 radishes halved
2 shallots sliced thinly
1 1/2 Tbsp olive oil
3/4 tsp kosher salt
1 Tsp balsamic vinegar
Freshly ground black pepper to taste
Instructions:
Preheat oven to 400
Line a real metal baking sheet with parchment paper

On the baking sheet combine all ingredients and spread in a single even layer.

Roast for 30-35 minutes until shallots are crispy and radishes are soft and beginning to brown
Leave a comment (all fields required)
Comments will be approved before showing up.