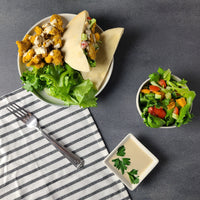 My favorite tip for breading either chicken or fish is to line my counter first with a disposable plastic tablecloth. I buy a box of the shortest length they make specifically for this purpose. Breading always makes a mess and this allows for easy cleanup. Also, when making chicken I don't have to worry about disinfecting my kitchen counter after.


Ingredients:
1 lb boneless, skinless chicken breast

cornstarch

2 eggs

2 Tbsp shawarma seasoning

1/4 cup water

1/2 tsp kosher salt

cornflake crumbs

Cooking oil spray (like Pam)
Instructions:
Preheat oven to 425
Combine eggs, shawarma seasoning, water and salt in a bowl.
Cut chicken into 1/2"-1" pieces
Dredge in cornstarch
Let chicken pieces rest for 5 minutes on a plate or plastic lined countertop.
Dip in seasoned egg mixture
Coat in cornflake crumbs and arrange on a parchment lined baking sheet. Let rest 10 minutes or cover pan with foil or plastic wrap and refrigerate up to overnight
Spray well with cooking oil spray. Turn over chicken pieces and spray other side
Bake at 425 for 10-15 minutes (depending on size of chicken pieces) until done.
Serve in a pita with Israeli salad, chumus and techina and call them "chicken nuggets" and serve them to your picky kids with ketchup and french fries. One dinner for everyone!
Leave a comment (all fields required)
Comments will be approved before showing up.