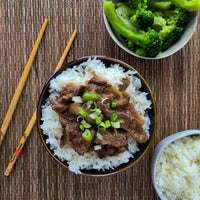 This is Japanese comfort food. In the same way Ramen is but not as well known for some reason. I shouldn't have been surprised (since this is the food Japanese children grow up on) but ALL of my children loved this!
It comes together in one pot (besides for the rice but get a rice cooker for that, you'll thank me) has minimal ingredients, and is quick to make as long as you prepare the Dashi and slice the steak in advance.
NOTE: Dashi is a stock that is used as a flavor base in Japanese cooking in the same way chicken or beef broth is used in other cuisines. It is traditionally made with bonito, which is dried fermented fish flakes. Since I do not mix fish and meat (and I also have no idea where to get kosher certified bonito flakes) I use a vegan Dashi. The Dashi takes minutes to make and can be made in advance and refrigerated or frozen. 
Ingredients:
2 large onions, thinly sliced vertically (pole to pole)

1 cup vegan Dashi (see recipe below)

1/2 cup mirin

1/4 cup soy sauce

2 Tbsp sugar

1 tsp granulated onion

1 box (3.5 oz) sliced shitake mushrooms

1 lb thinly sliced ribeye (slice against the grain, easiest to slice when semi frozen)

1 Tbsp grated ginger
Instructions:
2-3 cups rice, cooked in a rice cooker or as per package directions (for serving)
3 scallions, white and light green parts, thinly sliced
Shichimi Togarashi spice (Japanese 7 spice) optional but highly recommended!

Add onion, Dashi, mirin, soy sauce, sugar and granulated onion to pot and bring to a simmer. Simmer, stirring often, 12-15 minutes until onions are soft. Add mushrooms and cook 2 more minutes. Add meat and mix well. Bring to a simmer and cook covered for 10 minutes, stirring every few minutes. Remove cover and mix in ginger. Simmer another 5 minutes uncovered.

Serve over rice. Sprinkle with thinly sliced scallions and (optional but if you can get it it's totally worth it) Togarashi spice (Japanese 7 spice).
This can be made a day or two in advance and refrigerated. It reheats well.


Vegan Dashi
6 cups warm water

4 pieces kombu

12 dried shitake mushrooms
Let steep 1-2 hours at room temperature
(or overnight in the refrigerator) then strain through a paper towel lined fine mesh strainer.
Refrigerate for up to one week or freeze

Tip: Freeze in recipe size portions
Leave a comment (all fields required)
Comments will be approved before showing up.