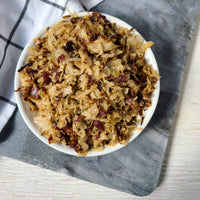 The of the melt in your mouth flavor of braised cabbage combined with the crispy caramelized flavor of roasted cabbage combined with delicious bits of beef fry/facon that infuses the entire dish. Basically, pure deliciousness. I first made this recipe last fall when I had an extra head of cabbage left over from sauerkraut. I tweaked and adjusted it the entire winter and spring until it was perfect.
I've been waiting for the first crisp Fall days to share it with you and they're finally here!
You might want to get out a second sheet pan and double this recipe. It's that good!


Braised and Roasted Beef Fry Cabbage
Ingredients:
1 small head green cabbage sliced into 1/4" -1/2" slices 

5 cloves garlic, minced

1 Tbsp mustard powder

1 tsp kosher salt

4 oz beef fry or facon chopped fine

1 Tbsp olive oil

1 cup chicken stock (low sodium)
Instructions:
Preheat oven to 375
Mix all ingredients besides stock together and spread out on a parchment lined (real!) sheet pan.
Pan will be very full. Don't worry, cabbage will shrink down a lot as it cooks. Just pile it up on the sheet pan!
Drizzle stock over everything. Cover tightly with heavy duty foil and bake for 1 hour. Uncover and stir carefully. Roast uncovered for 30-45 minutes until browned in places.
Try not to eat the entire tray yourself.
Note: If you can't or don't want to cut up a cabbage yourself you can use bagged pre-shredded cabbage. The results won't be as amazing but it will still be delicious. Substitute 2-1/2 bags pre-shredded cabbage and up the chicken stock to 1-1/2 cups (pre-shredded cabbage is drier)
Leave a comment (all fields required)
Comments will be approved before showing up.