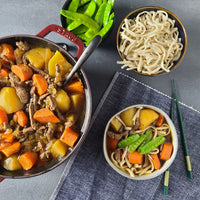 I've been exploring Japanese cuisine over the past few months. It began as an exploration of the home cooking of different cultures, as I wanted to widen my repertoire of weeknight dinners. Japanese home cooking style food was a clear favorite.
Many Japanese dishes traditionally blend meats and fish (often in the form of Dashi which is traditionally with dried bonito flakes) or have ingredients that are difficult or impossible to find kosher. One of the challenges of recipe development has been substituting vegan ingredients that approximate the umami flavors using ingredients that are available with kosher certification.

See recipe notes for suggestions for sourcing ingredients.


Nikujaga - Japanese Meat and Potato Stew
Ingredients:
6 oz (about 2 cups) snow peas, ends trimmed

1 lb frozen asian noodles (If you  find 9 oz packages use 2)

3 Tbsp canola oil

2 large yellow onions, halved and sliced thinly

1/4 tsp kosher salt

1 1/2 lb sandwich steak, sliced 1/4" thick against the grain

6 medium carrots, peeled and cut into 3/4" pieces

3 lbs yukon gold potatoes, quartered or cut into eighths if they are very large

5 cups vegan dashi (see below for recipe)

1 cup water

3/4 cup low sodium soy sauce

1/4 cup mirin

1/4 cup saki*

2 Tbsp brown sugar (optional)
Instructions:
Bring a large pot of water to boil and blanch snow peas for one minute in boiling water. Remove from pot with a slotted spoon and set aside.
In the same pot, cook noodles as per package directions.
Rinse noodles well and set aside (I like to cut noodles into 3"-5" pieces to make it easier to eat)

Heat oil in a Dutch Oven. Add onions and kosher salt and cook over medium high heat, stirring often, for 6-8 minutes until soft. Add meat and cook, stirring often, for 8-10 minutes. Add remaining ingredients, bring to a simmer and cook with a cover that is slightly ajar for 25-35 minutes until potatoes are soft.

To serve: place some noodles in a bowl. Ladle stew over noodles. Garnish with steamed snow peas.
Vegan Dashi
6 cups warm water

4 pieces kombu

12 dried shitake mushrooms
Let steep 1-2 hours at room temperature
(or overnight in the refrigerator) then strain through a paper towel lined fine mesh strainer or a coffee filter. Press mushrooms to release some of the liquid they have absorbed. Makes about 5 cups


Note: Kombu and dried shitake mushrooms can easily be found on amazon with kosher certification. (I used Eden brand kombu) Mirin is a sweet rice wine that is usually found near the soy sauce in supermarkets.

*If you can not find Saki (my local wine store carries it) you can substitute it with 2 Tbsp additional mirin and 2 Tbsp water



Leave a comment (all fields required)
Comments will be approved before showing up.