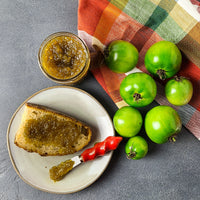 The first frost is coming and you quickly picked all your tomatoes before they froze. Maybe your prize tomato plant was damaged in a storm. Or possibly you saw these beautiful green heirloom tomatoes in the farmers market on a crisp October day and just couldn't pass them up. However it happened, you've found yourself with a large bowl of green tomatoes sitting on your counter and you have no idea what to do with them.

The most obvious answers are to pickle or fry them. Frying will make almost anything delicious and pickled tomatoes are fine too but I have something even better to do with green tomatoes. Something that takes advantage of their bright vegetal flavor while still preserving them for weeks to come.

Green tomato Jam! You can also call it chutney or marmalade if you'd like. This jam is just as good as a spread on bread as it is as a condiment on a charcuterie board, on your burgers or hotdogs or even on a grilled cheese sandwich. It can be pureed and used as a glaze on root vegetables or meats or as a dipping sauce. The possibilities truly are endless. It's an amazing way to extend tomato season far into the dark winter months.


Green Tomato Jam
Ingredients:
1 lb seeded, peeled and cored green (unripe!) tomatoes *SEE NOTE

3/4 cup sugar

2 Tbsp fresh lemon juice

1 tsp lemon zest

1/4 tsp powdered dried ginger (the spice, not fresh ginger)

1/4 tsp cinnamon

a dash of kosher salt
Instructions
Place all ingredients in food processor and pulse until everything is combined, scraping down the sides of the food processor once or twice as needed. The tomatoes should be finely chopped but not pureed. You want them to still have some texture.
Let sit 30 min. The tomatoes will release their juices. Transfer to a saucepan and bring to a simmer. Cover and simmer 20 minutes stirring occasionally. Uncover and raise the heat slightly if needed to return to a simmer. Simmer, stirring occasionally for 20-40 minutes until thickened to a jam like consistency. 
Remove from heat and cool before transferring to a jar and refrigerating.
Makes 1 cup
Can be refrigerated for up to four weeks or frozen for months

Can easily be doubled, though the cooking time uncovered may need to be increased slightly so the jam thickens properly. If tripling or more use a pot with a larger surface area than a saucepan such as a sauteuse or even small stockpot to allow the liquid to evaporate.

*NOTE: I needed to start with about 2 lbs green tomatoes to get 1 lb peeled, cored and seeded. You will need more or less depending on if your tomatoes have blemishes that need to be cut off. You can use a regular vegetable peeler to peel the green tomatoes as they are not soft like ripe tomatoes are.
Leave a comment (all fields required)
Comments will be approved before showing up.