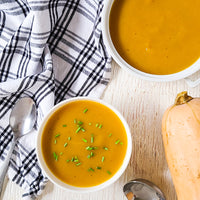 I've been making this soup this way for years, ever since I discovered the ease of roasting the squash before making the soup. By roasting the butternut squash whole you get all the flavor of the roasted squash without the dangerous activity of hacking at the hard, raw squash with a cleaver. It also doesn't take as long to cook as many other soups (remember the squash is already roasted!) making it a great weeknight supper. My favorite time to make this is in autumn or winter but since butternut squash store so well I've found myself craving this velvety soup all year round.


Ingredients:
5 pounds roasted butternut squash

2 large onions chopped

2 whole garlic cloves

4 Tbsp olive oil

8 cups chicken or vegetable stock

3 cups water

1 tsp dried thyme

4 bay leaves

1/2 tsp mild chili powder

dash cayenne pepper

Kosher salt
NOTE: You will need 2-5 butternut squash (depending on size) to get 5 lbs total of roasted squash. Any extra can be easily frozen to use in soup another time or to make my Pumpkin Pie (yes, it is delicious with butternut squash as well)
Instructions:
To prepare butternut squash: Wash well and wrap in foil. Bake at 350 on a baking sheet for a few hours until your house smells delicious and the squash is soft. Remove from oven, unwrap, and cut open to allow the steam to escape and the squash to cool. Discard seeds, scoop out flesh and weigh out 5 lbs.
Heat oil in a large pot or dutch oven
Add onions, garlic and 1/2 tsp kosher salt and cook over medium to medium high heat stirring often, for 15 to 20 minutes until onions are translucent and have started to take on color.
Add stock, water, bay leaves, thyme, and chili powder. Cover and bring to a boil. Reduce heat and simmer for 45 minutes. Remove from heat and puree with an immersion blender or in batches in a traditional blender. Add water as needed to adjust texture. Add a dash of cayenne pepper and kosher salt to taste.
This freezes beautifully so the recipe makes enough for dinner with plenty to freeze for another time. Recipe can be halved for a smaller amount of soup or doubled or even tripled (just be sure you have a large enough stockpot!)
Leave a comment (all fields required)
Comments will be approved before showing up.