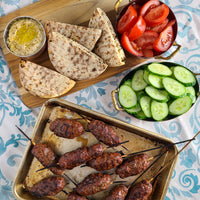 I enjoy grilling all year round, but like most people get much more excited about it when the weather starts to get warm.
This week I found myself bored of steak, burgers and hotdogs and craving something different from my usual grilling fare. This is what I came up with. I made a backup dinner for my kids as I often do when testing a new recipe. There was no need. Every one of my kids loved this. As I'm sure your family will too!

Ground Meat Kebabs

Ingredients:

•5 cloves garlic, peeled
•2 cups fresh parsley (leaves and tender stems)
•2 shallots, peeled
•1 1/2 tsp ground sumac
•2 tsp paprika
•1 tsp cumin
•1 tsp coriander
•1 tsp kosher salt
•1/2 tsp ground black pepper
•2 lbs ground beef

Instructions:

In a food processor process all ingredients besides ground beef until finely chopped.

With your hands (I wear gloves) smoosh and knead spice mixture into meat until well combined. The texture of the mixture will change as you completely incorporate the spices mixture. It will feel slightly tacky and more solid. At this point you can refrigerate the meat for a few hours or overnight.

Divide into balls of about 1/3 cup each and roll into cylinders about 4" long by 1" thick. Thread onto skewers. Grill or broil until cooked through, about 10-15 minutes.
They should be 165 degrees Fahrenheit in the center when done.

On a charcoal grill, grill them over indirect heat for about 10 minutes then finish over direct heat.

Serve with fresh pitas, chummus, techina, and cut up cucumbers and tomato.

NOTE: If using bamboo skewers soak them in water for at least an hour. Metal skewers are better if you have them.


Leave a comment (all fields required)
Comments will be approved before showing up.