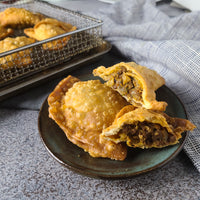 I have been making a Sephardic Meat Pie based on Gil Marks' book "The World of Jewish Cooking" for many years now. It's a family favorite for Yom Tov which I usually serve on Shavuous and Rosh Hashana. With Chanukah upon us I wanted to give it a fun, seasonal upgrade by making them single serving and of course frying! (because Chanukah!)
NOTE: I have included instructions both for preparing the components in advance and frying fresh or for preparing them and frying in advance. I know we are all busy and sometimes this information can be really helpful!


Sephardic Meat Pie Lamb Samosas
Ingredients:
Dough:
1/2 cup water

2 Tbsp oil

3/4 tsp salt

1-3/4 cup flour

cornstarch for dusting

Meat filling:
1 Tbsp oil

1 medium onion, diced

1/4 tsp salt

2 cloves garlic, minced

1 lb ground lamb

1/2 tsp granulated garlic

1/2 tsp paprika

1/4 tsp chili powder

1/4 tsp cumin

1/2 tsp kosher salt

1/4 cup minced parsley

2 Tbsp panko breadcrumbs

2 Tbsp all purpose flour

1 egg, lightly beaten


Instructions:
First make the dough:  Mix water, oil and salt in the bowl of a stand mixer. Add the flour. Once the dough has come together knead for 4-5 minutes with the dough hook until a smooth dough has formed. Remove dough from mixer and form into a rough log. Wrap in saran wrap and let rest at least 30 minutes before using.
You can also refrigerate the dough overnight. Let come to room temperature before using.
TIP: If using immediately, make the filling while the dough is resting

Divide rested dough into seven 2 oz pieces (about walnut sized) and roll into balls. Let rest about 5 minutes and then using a rolling pin roll each out into a circle about 6-1/2" in diameter. Stack the dough circles (dusting with a bit of cornstarch in between layers). Cover with plastic wrap until ready to use.

To make the filling, heat oil in a large skillet. Add onion and 1/4 tsp salt and cook, stirring often for 5-6 minutes. Add garlic and cook, stirring constantly for 1 min. Add ground lamb and cook, stirring to break up for 5-6 minutes to brown meat. Remove meat from pan to a bowl, draining well to remove as much rendered fat as possible.
Let the meat cool for about 10 minutes and mix in remaining ingredients (you don't want to do this when the meat is hot because the egg will curdle)
*At this point you can refrigerate overnight. Bring the mixture to room temperature before filling and frying

To Fill: Prepare a small bowl with water to dampen edges so they seal well.

Cut a dough circle in half. You will be working with one half at a time. With the flat side away from you fold one corner down to the center. brush the vertical edge with water and fold the other side down, pressing to seal the two sides together well. This will form a cone shape to fill.
Here are some pictures I took on my desk using a half circle of paper. I will try to get pictures using actual dough the next time I make it. I will also post a video on my Instagram page to make it clearer (If I can figure out how to link that video here I will)

Place about 1-1/2 to 2 Tbsp of filling in each cone. Dampen edges and press tightly to seal. Fill all half circles the same way and then fry

To Fry: Heat 3-4 inches of oil in a Dutch oven to 360-375. Fry 4-5 at a time for about 8 minutes until golden brown, flipping them over to ensure they cook evenly. Drain on a paper towel or a rack over a sheet pan. Can be served warm or at room temperature.

To make in advance: Cool, then freeze in a single layer on a sheet pan. Transfer to a Ziploc freezer bag or airtight container. Heat gently (in an oven at 200- 250) in a single layer, uncovered


Leave a comment (all fields required)
Comments will be approved before showing up.